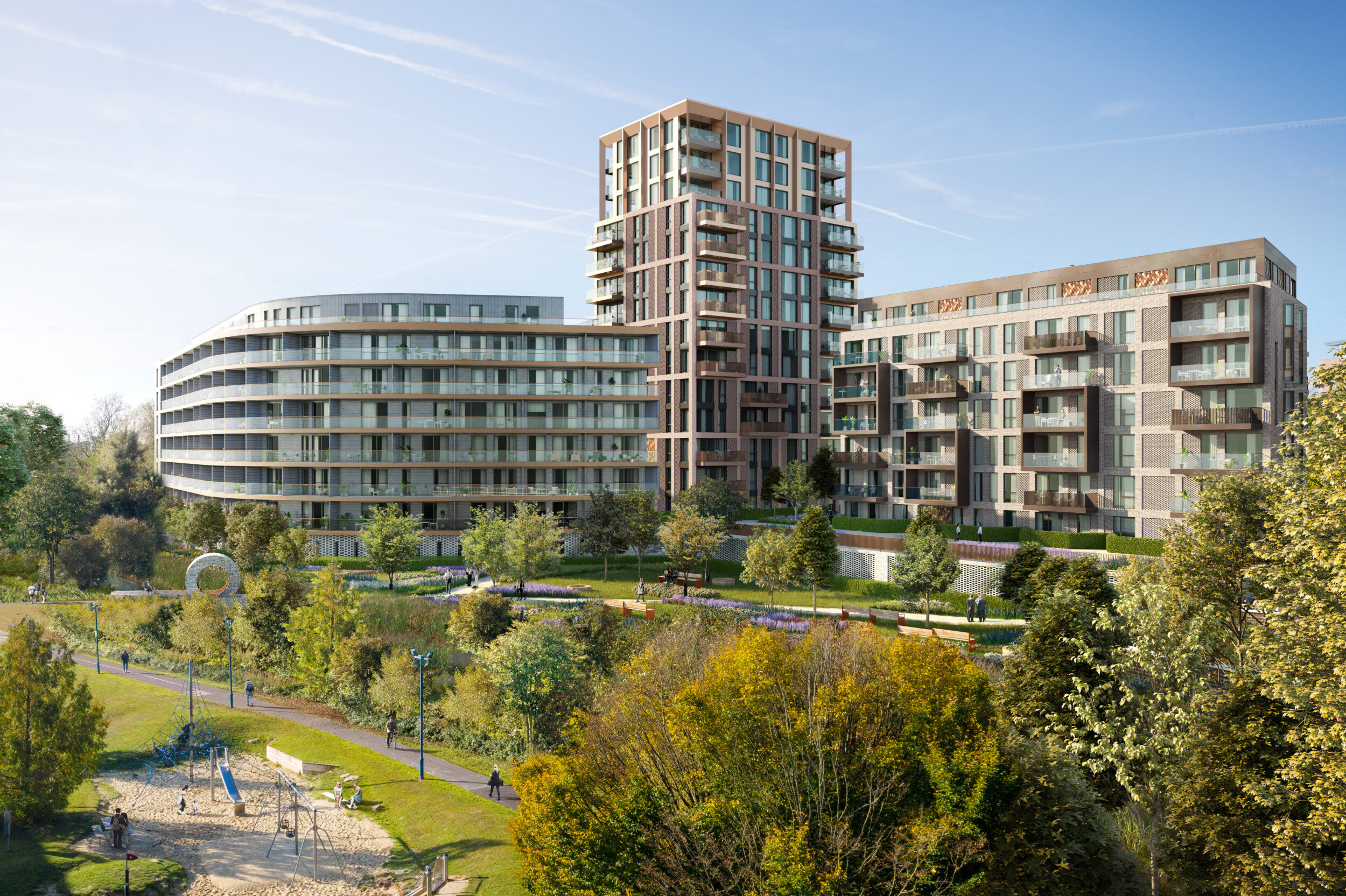 With our Client, we have secured a resolution to grant planning permission at Committee for the redevelopment of the former Kent Wool Growers site in Ashford.
Our exciting proposal for the Kent Wool Growers site, which provides 243 one, two, and three bedroom apartments, forms part of a larger jigsaw for the whole commercial quarter and includes a key street link between the International Station and the proposed multi-storey car park behind the bowling alley. The proposal has been centred around connectivity to the town, providing improved pedestrian links from East to West through a pedestrian footbridge across a newly revitalised Great Stour, through a fully accessible landscaped riverside public realm. The proposed looping footbridge is designed by Alex Chinneck, a local artist who was previously commissioned to create "The Zip Building".
Central to this scheme is a commitment to delivering the highest quality of architecture to attract young, economically active professionals, who will benefit from its highly sustainable location next to the International Station. We have worked extensively with Historic England and the Design Review Panel to ensure a high quality of design. The resulting scheme proposes four residential buildings, each with a different architectural character, collectively drawing on the unique history of the site and making reference to the former tannery, which was once a thriving family business.
A fundamental part of the rich history of the site is Whist House, which sits on the bank of the Great Stour. Formerly the family home to the tanning family, the Grade II listed building has fallen into a state of disrepair since the family business closed. The consented proposal includes Listed Building Consent for its full restoration back to its former glory as a one-off family home in the heart of the town. Throughout the process, an exciting alternative has been worked on to bring forward a Listed Building Consent application to convert Whist House into a destination restaurant on the river that will look on to the public landscaped gardens, toward the sculpted looping bridge.
We believe the proposed redevelopment of the Kent Woolgrowers site is an excellent opportunity to continue delivering high-quality homes and an ongoing reinvention of the town centre.