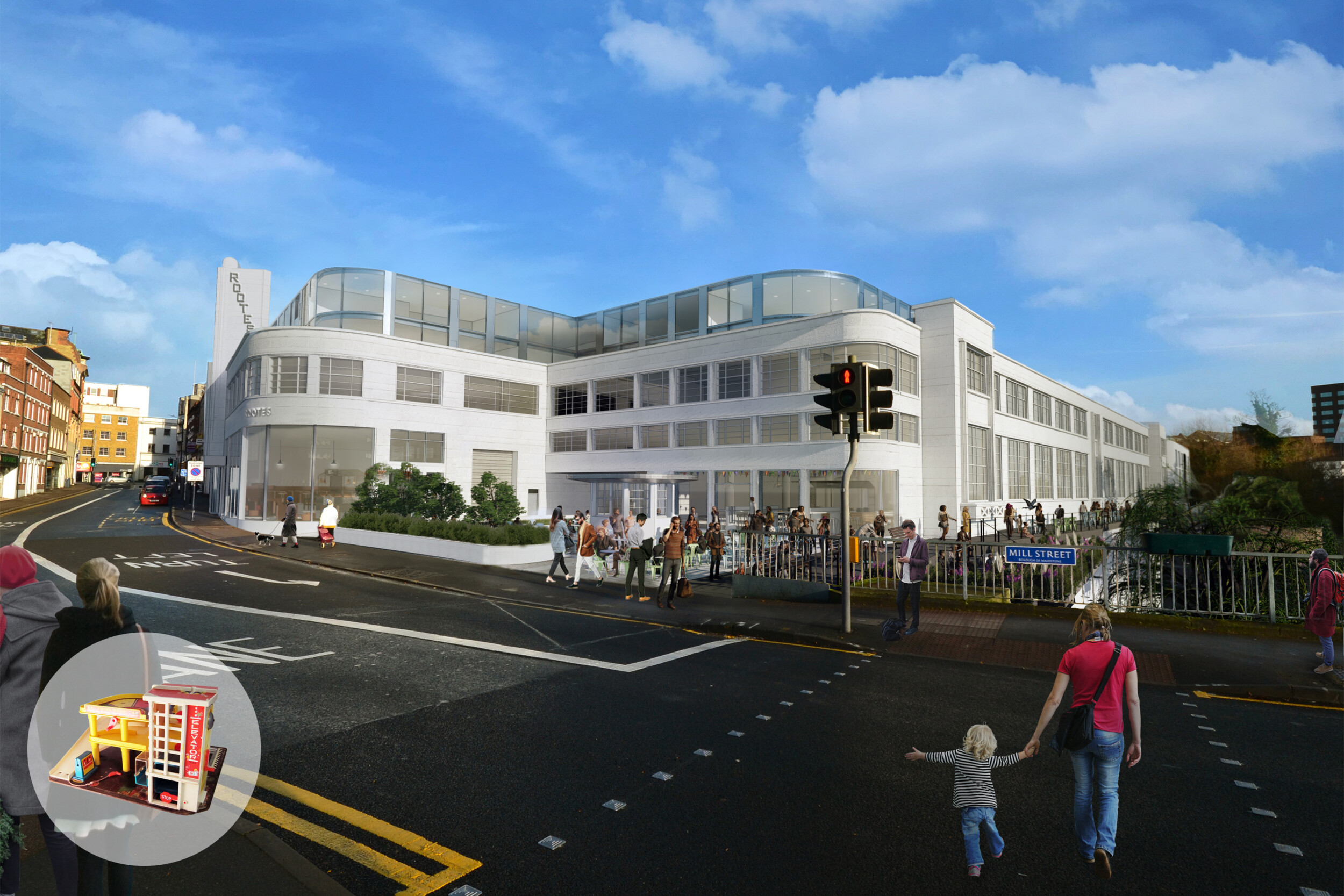 Working with our Client Classicus Estates, Hollaway has submitted a detailed planning application for Grade II listed Len House – the former car showroom and workshops for successful British car manufacturer Rootes.
Our proposal seeks to renovate and restore this iconic 1930's modernist piece of architecture, which inspired the 1970's Play Family Garage toy by Fisher-Price.
The scheme aims to establish a new vibrant public 'square'. Commercial space at ground floor set within an attractive landscaped setting connects public amenities to the adjacent river Len and makes Len House accessible to all. A new public riverside board-walk with a floating pontoon seamlessly links Len House with the new vibrant commercial square which will feature a contemporary interpretation of the lost historic petrol pump that once occupied the forecourt of Len House. Our client is currently exploring viable options for a new restaurant, a potential food hall and co-working spaces.
Our designs also include 159 uncompromising new high-quality apartments. A contemporary 2-storey roof extension set back above Len house, alongside two new developments adjacent to and to the rear of the site, will not only deliver new homes to the town centre, but it will allow residents to benefit from a landscaped environment with a central podium garden.
Working closely with Maidstone Borough Council and Historic England, the buildings external and internal historic fabric will be retained and restored. The existing internal ramp is to be continued to be used as originally intended, as vehicular access to first floor parking spaces with wired electric charge points for every single apartment whilst the existing building façade and Crittall windows are to be treated and replaced.
We look forward to securing the future of this much-loved building in Kent by celebrating its past whilst redefining this town centre area of Maidstone. The new public square will offer residents of the town and visitors open-aired spaces to relax and interact as once we've overcome the current social exclusions.