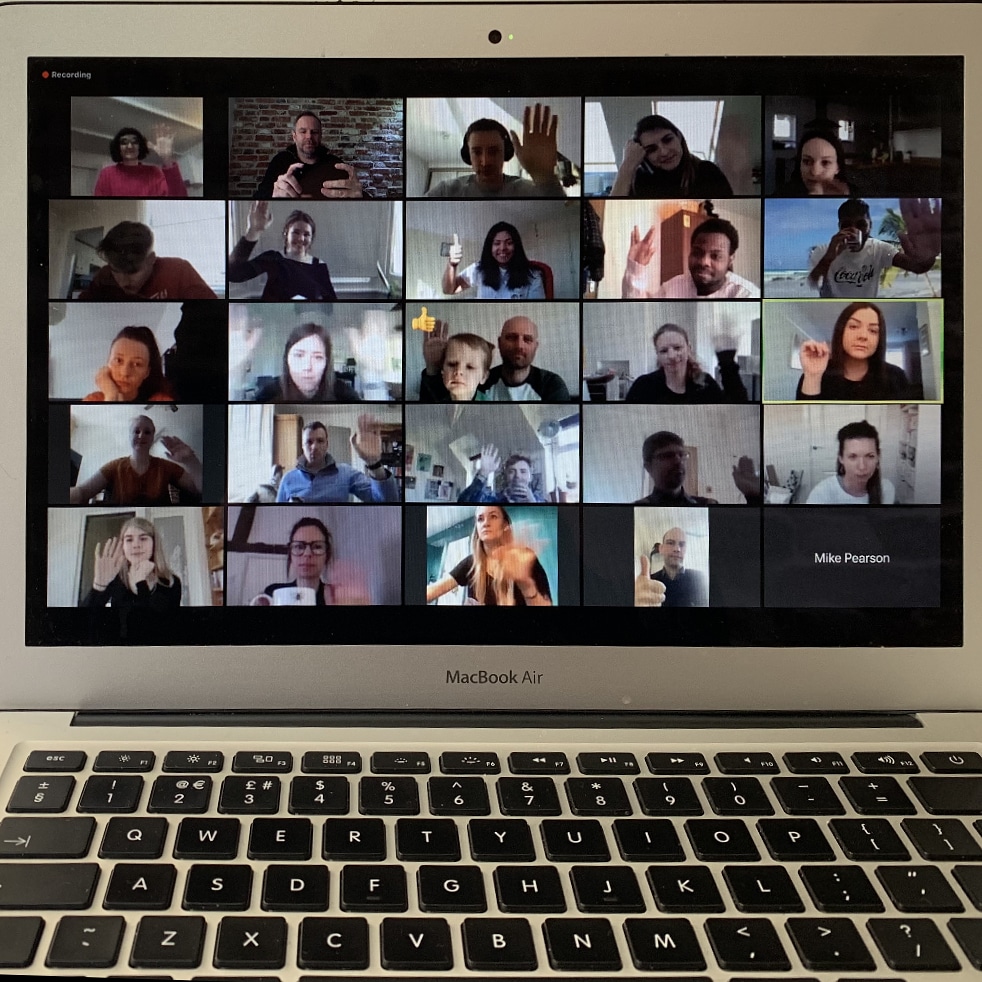 In these changing times it's important to see the positives and take initiative, so this morning our Hollaway team joined purpose-led Hoxby Collective on Zoom via Microsoft Teams for a live video talk about how to think diversely and work remotely.
Hoxby has been working seamlessly in a world of work without bias for some years. They have 1000 employees, no office, no nine-to-five, no presenteeism. Just good brains delivering incredible outputs.
Working remotely can be challenging, here are our essential top tips for keeping team productivity and morale high!
Trust:
Manage by expectations, rather than by 'bums on seats', and have faith in your staff to put in the hours whilst being flexible to suit their changing home circumstances. The self-preservation instinct can make us sceptical but building trust with workers and developing positive relationships is key to a company succeeding.
Outputs:
Empower people with goals and the means to deliver them. By judging each other on the quality of work rather than hours of work we will be signalling that it's more important to create something that matters rather than just showing up. When people are given goals instead of tasks, they care more about the outcome.
Face-to-face:
Choose video contact over email to connect with your team, even for one-to-one catch-ups. Not everyone will feel comfortable with video conferencing but recreating the office environment online can make all the difference in your team's productivity and emotional well-being. Human interaction is essential to avoid feelings of isolation, so switch on the webcams and remember to look at the camera, not the screen, so people can see your eyes!
Be creative:
Collaborative working is key. Over-communicate, share ideas, share screens, sketch. Communicate with clients through visual media and short videos. Let your client and team know how they can communicate with you, set the trend and ask for feedback.
Stay social:
Connect, celebrate, hang out and have fun as a remote team to reduce feelings of isolation and anxiety. Since we won't be bumping into each other in the kitchen, chitchatting over coffee, or putting the world to rights over a game of table football, recreate your 'water cooler' social meeting places online. Whatever we're talking about, photos, emoji's and GIFs are always appropriate! Now more than ever, it's crucial to stay connected with your colleagues. Check-in personally, share stories, ask how people are doing.
Dress and groom professionally:
Our morning routine determines our mindset for the rest of the day. As tempting as it is to stay in our PJ's, getting dressed as we normally would means you will be more productive. Try to follow the same rituals and habits each day to maintain relationships and a sense of normalcy.
These new strategies may change the way we work in the future, potentially for the better, as we become a more creative and adaptable team.