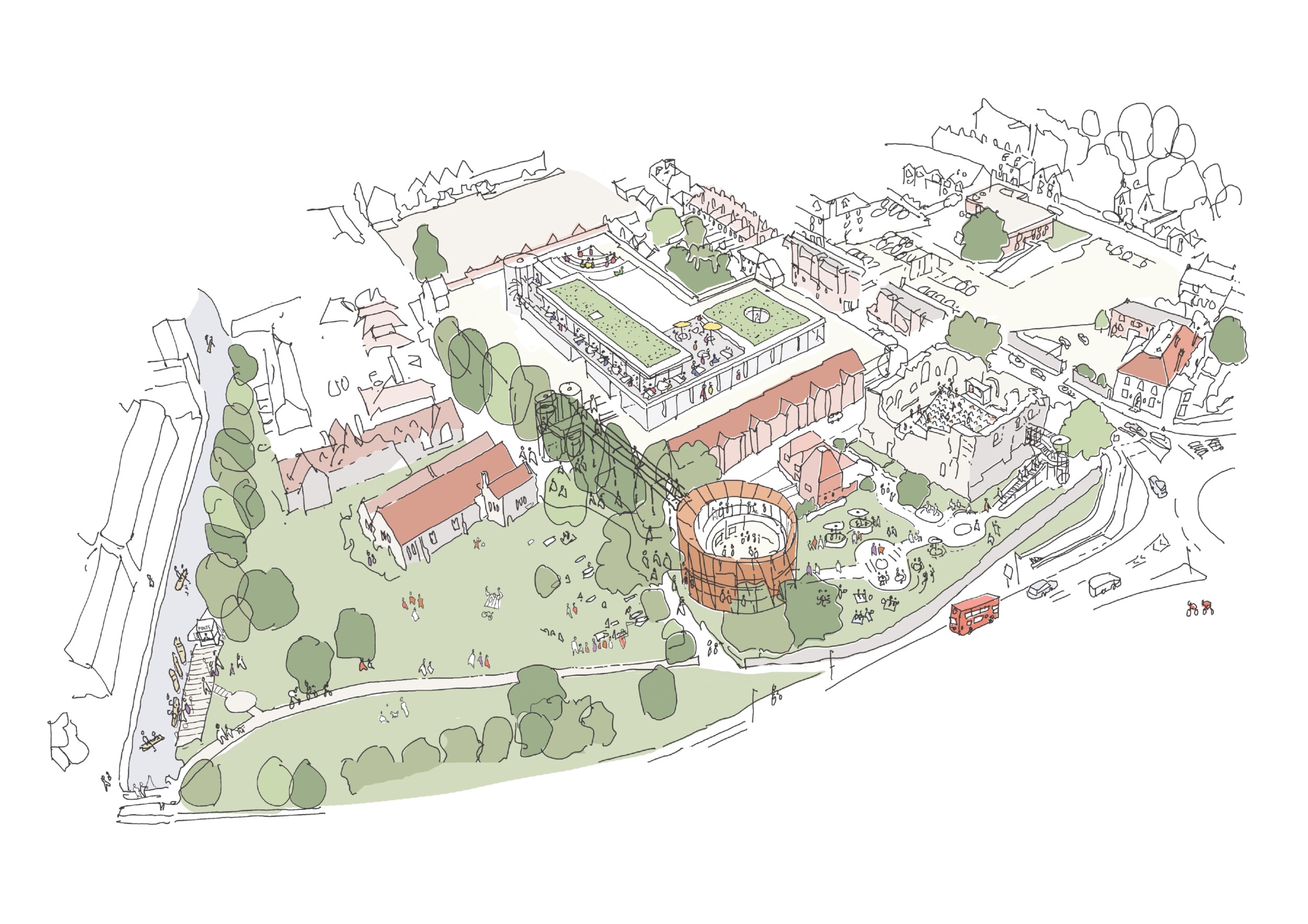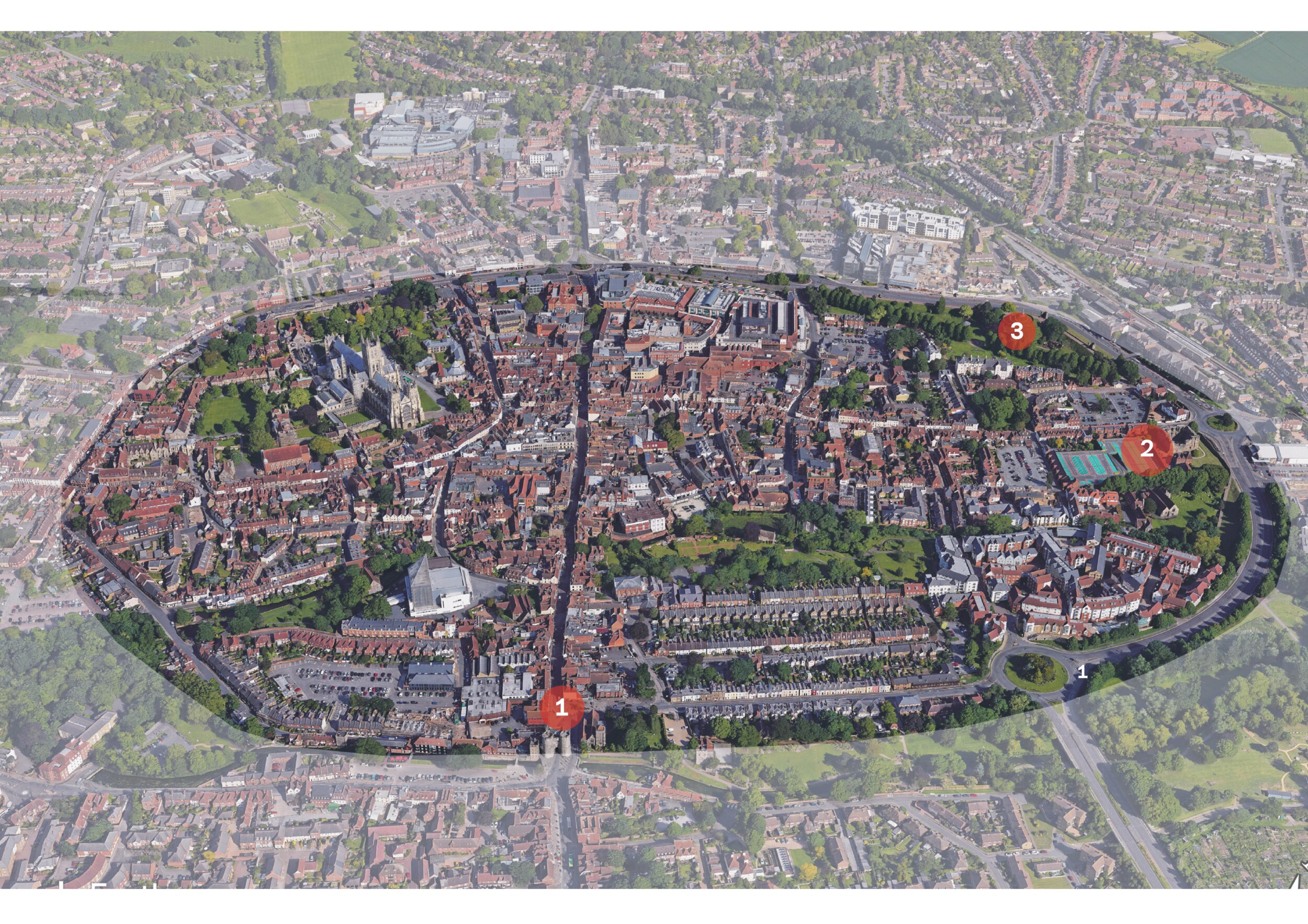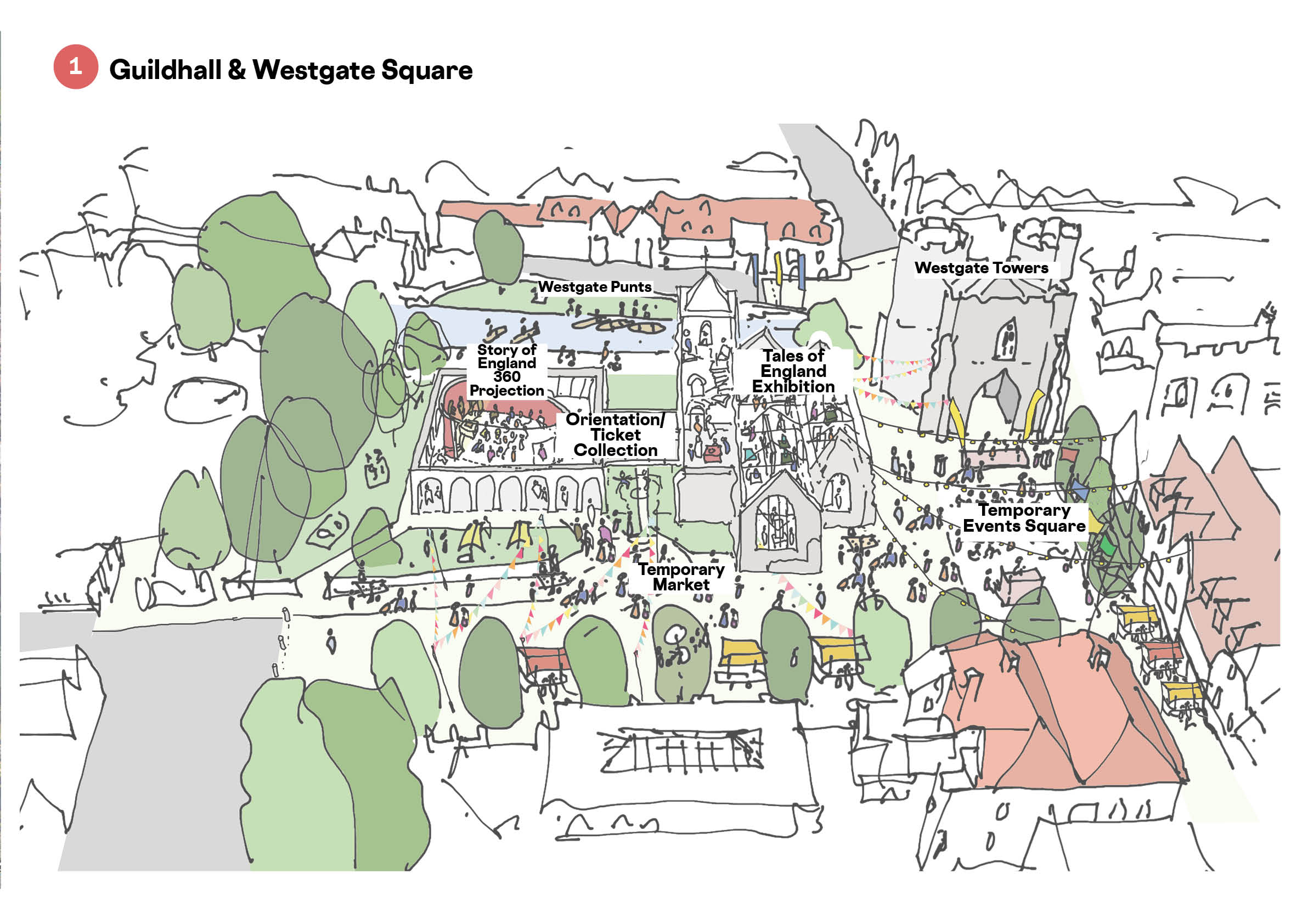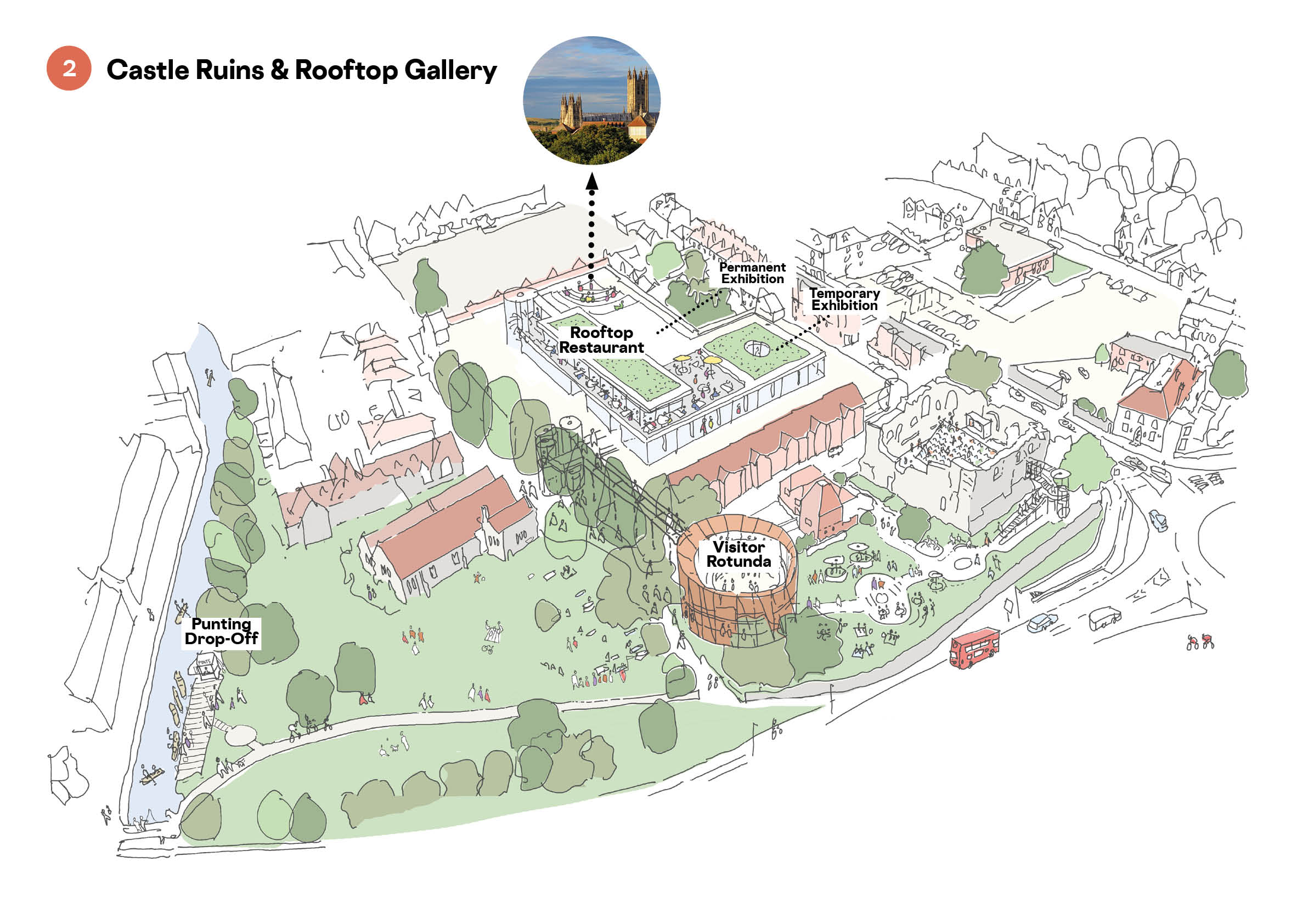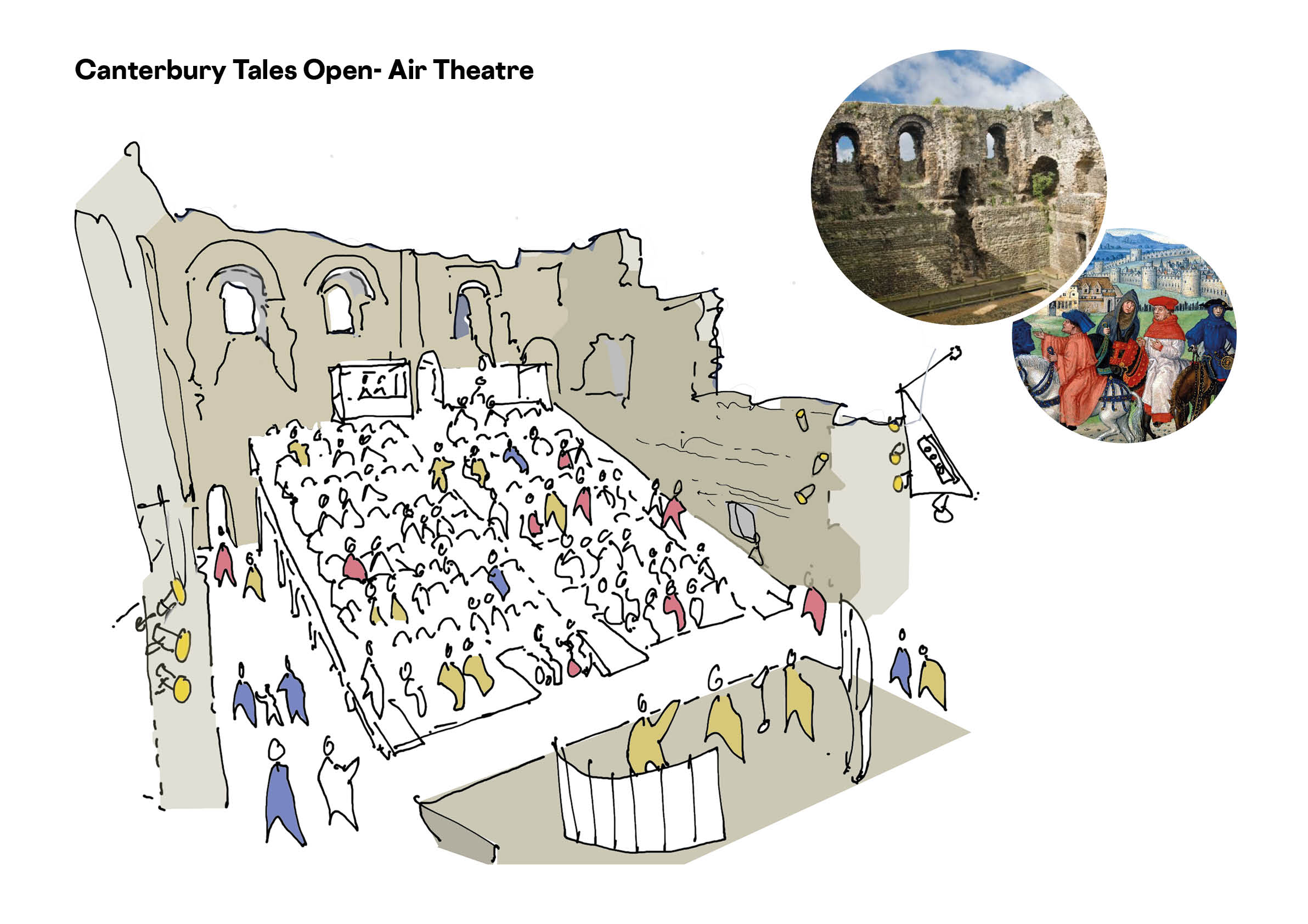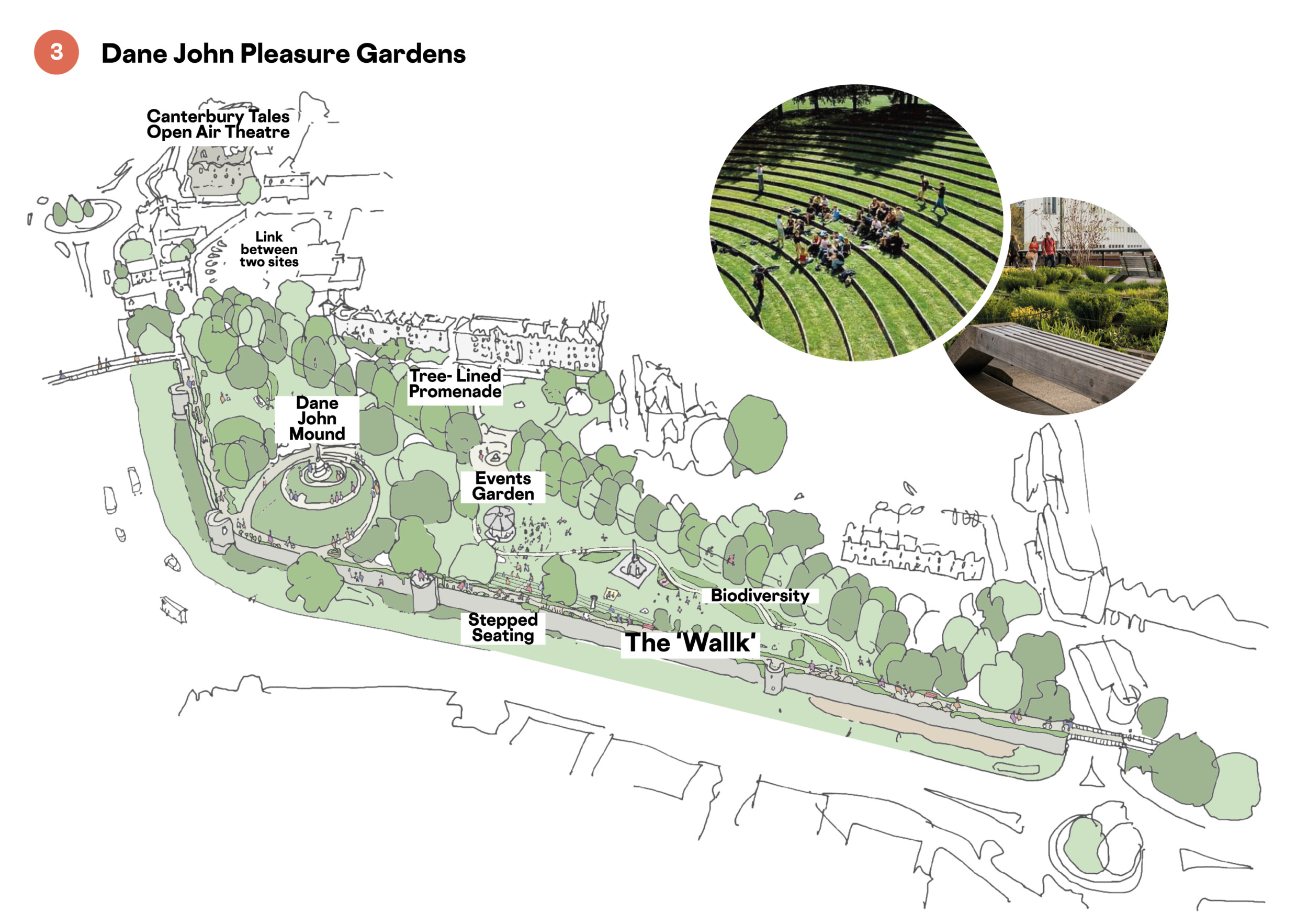 Hollaway Studio is very excited to be the Architects for Canterbury's Tales of England project, which aspires to transform the city's heritage assets and to create new tourist and public destinations for the City. We've been working with our clients Canterbury City Council to deliver their vision for this project.
The emerging designs reconnect the City of Canterbury, providing core visitor routes such as the Pilgrims Mile or the River Stour allowing visitors to dip into the present day culture between each attraction.
One ticket will grant access into each heritage destination attraction – arriving at Westgate Towers with a new public realm, the route begins at the grade II listed Guildhall Council chamber complete with 360 degree historical cinematic experience, and an exhibition following 1000 years of British History. Traverse through the high street and punt along the gentle river to an outdoor amphitheatre experience of Chaucer's Canterbury Tales within the historic walls of Canterbury's Castle ruins. Next door is an orientation centre, rooftop gallery with new state of the art exhibition space for permanent collections and a temporary space for touring exhibitions. Plans are also include for a rooftop restaurant, with panoramic views over Canterbury's roofscapes.
Continue your journey along Canterbury's city wall which Landscape Designer Jo Thompson proposes to transform into a green haven, 'highline concept' with Dane John Gardens, complete with biodiversity gardens to inspire and encourage natural wildlife.
Through early engagement with Historic England, we can ensure that each site will be developed with the utmost sensitivity. This scheme will allow us to connect the rich heritage of Canterbury throughout the city, bringing more people in and creating an income which will fund the future maintenance and ongoing revenue costs of the sites themselves, whilst also facilitating the restoration of each heritage asset and securing it's future.
Canterbury has been ranked by the governments as a 'high priority" location and as a result Canterbury City Council is preparing a bid for 20 million as part of the central governments 4.6 billion levelling up fund. Additional funding will be sort from the National lottery heritage fund and other investors.
Council leader Ben Fitter-Harding (Con) said: "It's an opportunity to reboot Canterbury's entire heritage offering, and give the city a real international appeal which puts it on the world stage."
"Visitor numbers have declined over the years and I think that's partly a problem of under investment in the assets."
Alex Richards of Hollaway Studio 'this is a unique opportunity for Canterbury City to create further visitor attractions which celebrate the city's heritage and will compliment the Cathedral experience.'