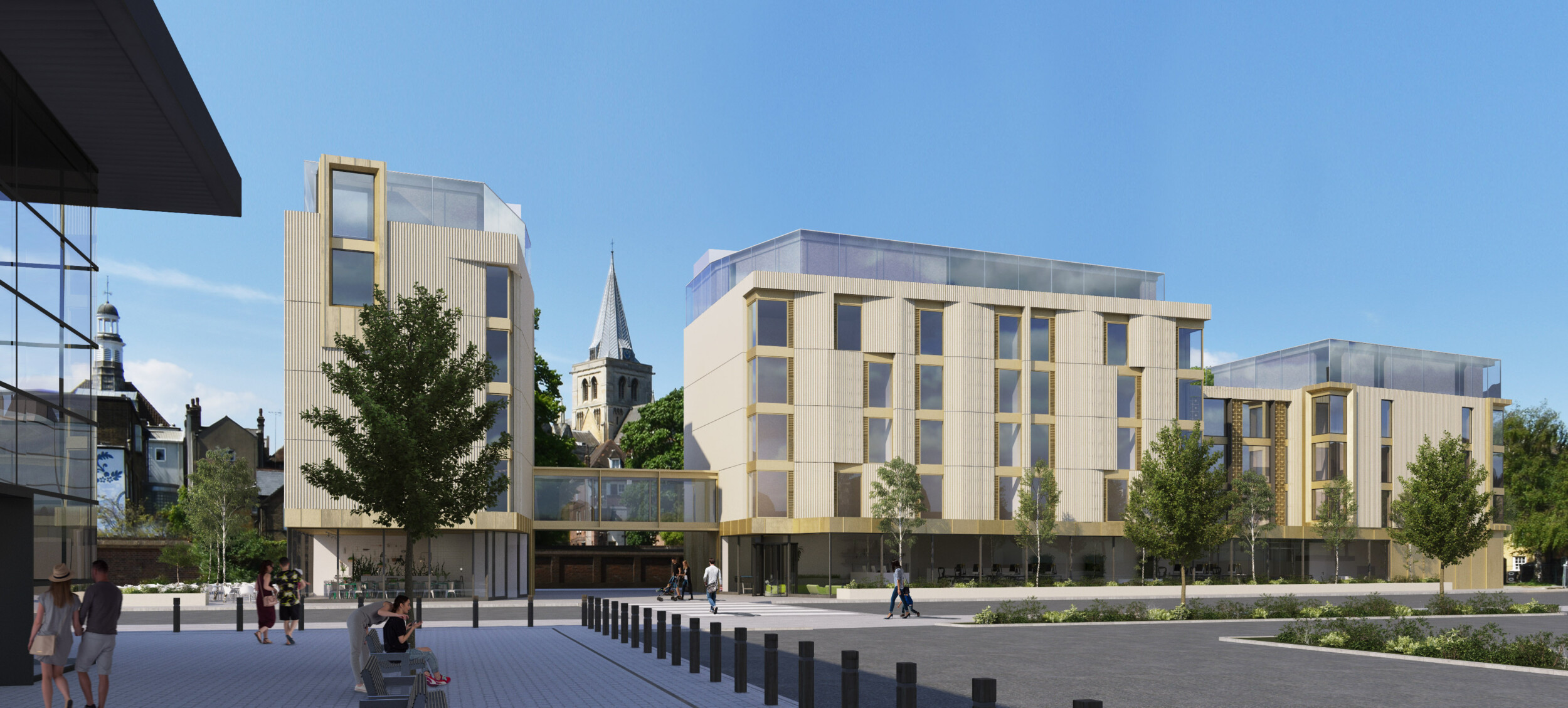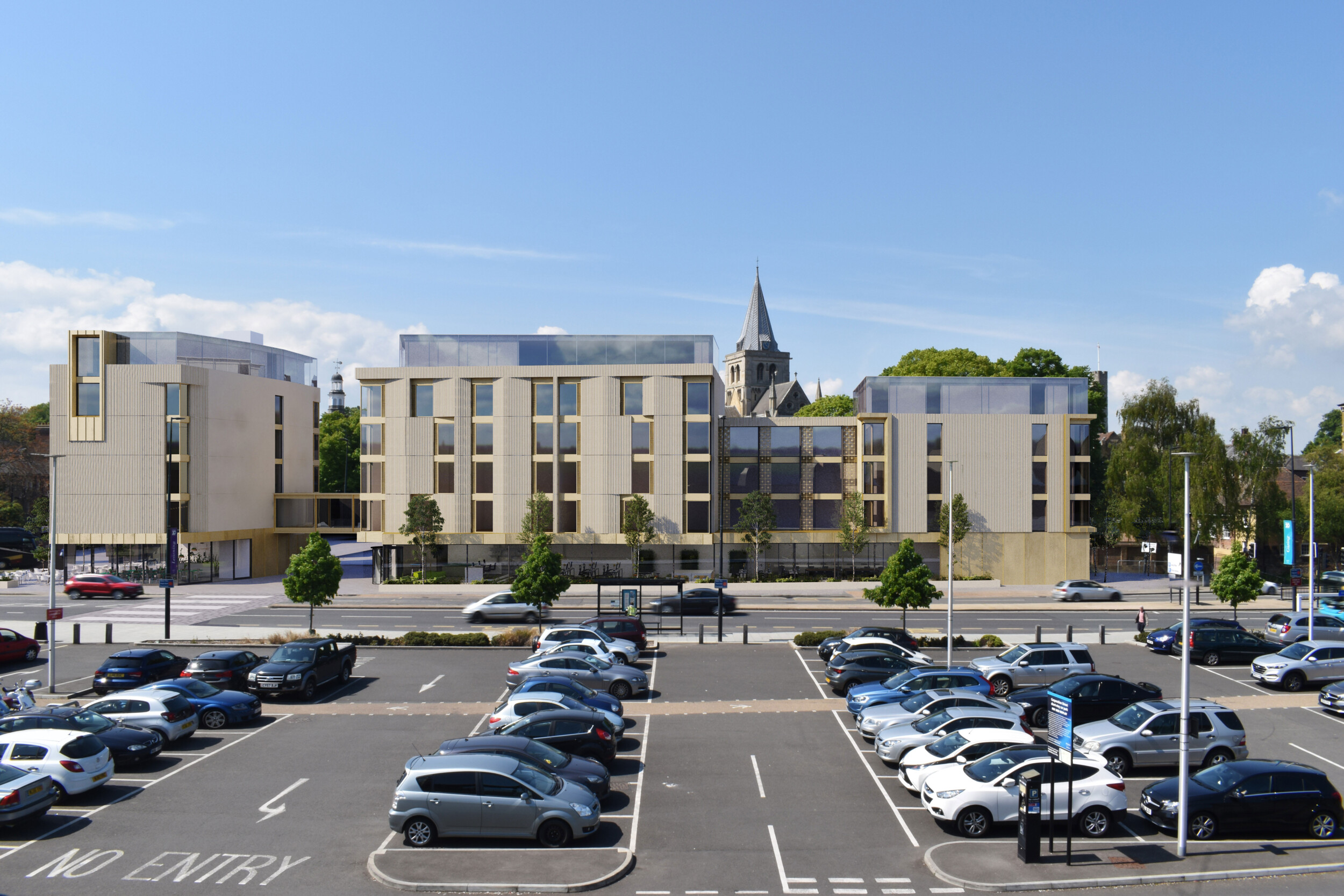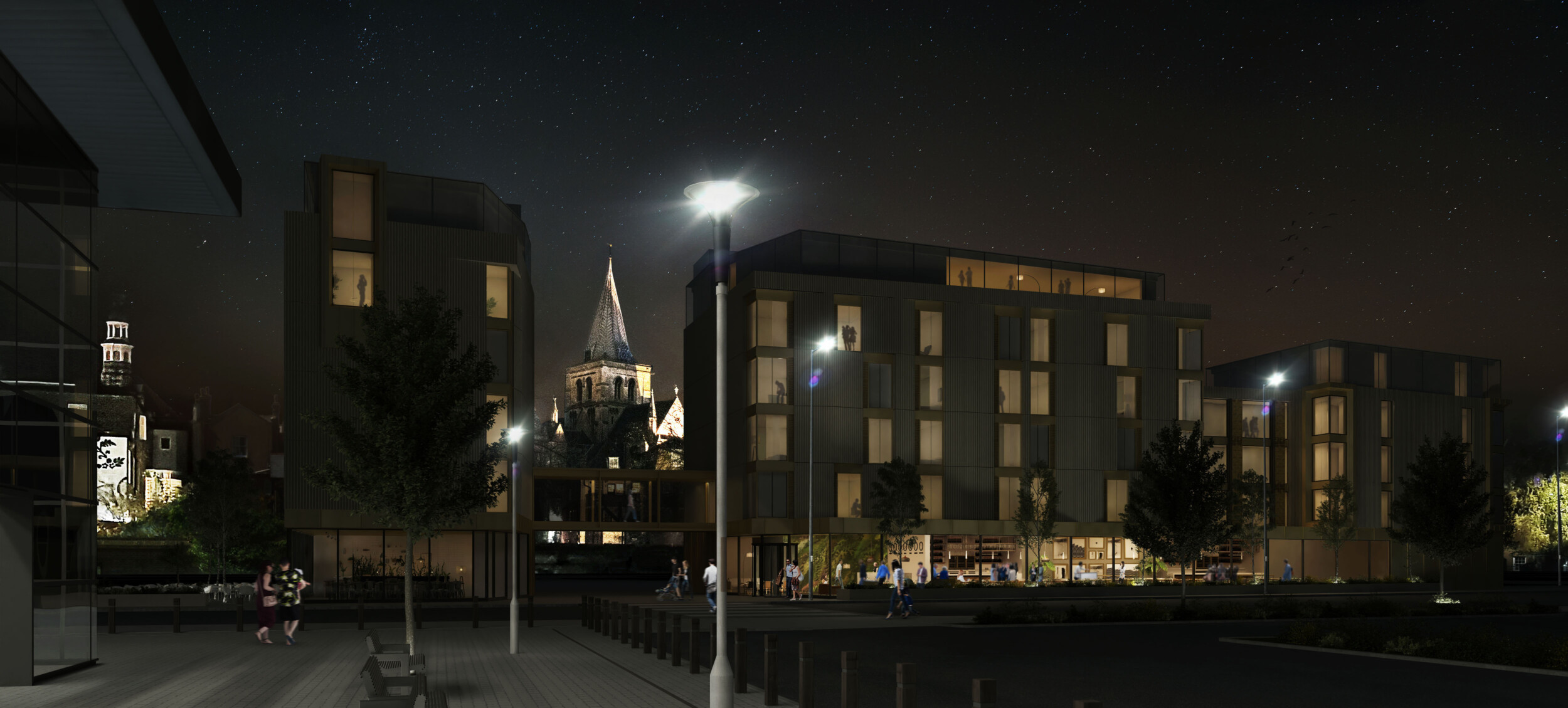 Medway Council has approved planning permission for our design proposals for Cathedral View Hotel – a 100 bedroom hotel with a panoramic rooftop bar and terrace in the historical Cathedral city of Rochester.
The hotel will sit in a prominent position on Corporation Street, between the new high-speed rail link and Rochester's High Street, Cathedral and Castle, and will replace a dilapidated petrol station structure currently being used as a car wash.
The proposed building, and a new pedestrian passageway under a link bridge, will act as a key visual and actual gateway connecting the train station and developments on the riverside to the historic city centre and beyond, which are currently being divided by Corporation street and the main ring road that circles the centre.
A considerate approach has been taken to respect the town's skyline and historical landmarks by breaking the line of the building's mass with a glazed walkway to reveal and frame theatrical views of the Cathedral and the Castle, which would have otherwise been blocked. This break line also provides a clear route through to the high street, enabling connectivity and promoting the vibrancy of the city centre.
To further enhance Rochester's historical landmarks our designs also feature an atmospheric destination rooftop bar and terrace with beautiful panoramic views of the Cathedral and Castle from the back, and views of the River Medway from the front. Drone footage has been used to ensure heritage sites can be fully appreciated from these viewpoints. Amongst other sensitive approaches, we have worked extensively with a precast concrete specialist to develop a bespoke cladding panel that references the Cathedrals Caen stonework in a contemporary manner. It's colouring compliments the Cathedral, and the windows and rooftop bar reinforces the picture frame, providing guest with even more of the Cathedral.
Alongside the Council's own upgrades for a tree-lined boulevard with cycle lanes, our designs for additional landscapes and an animated ground floor lounge, restaurant and flexible working space will promote employment and a new hub of interaction for Corporation Street and the city centre. This new building also provides much needed high-quality hotel rooms for visitors staying in Rochester.