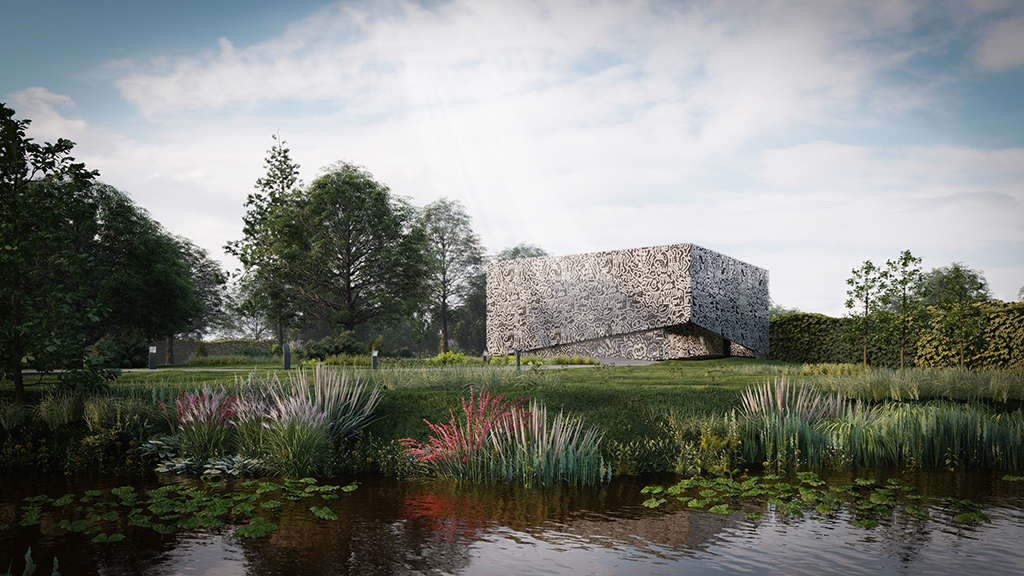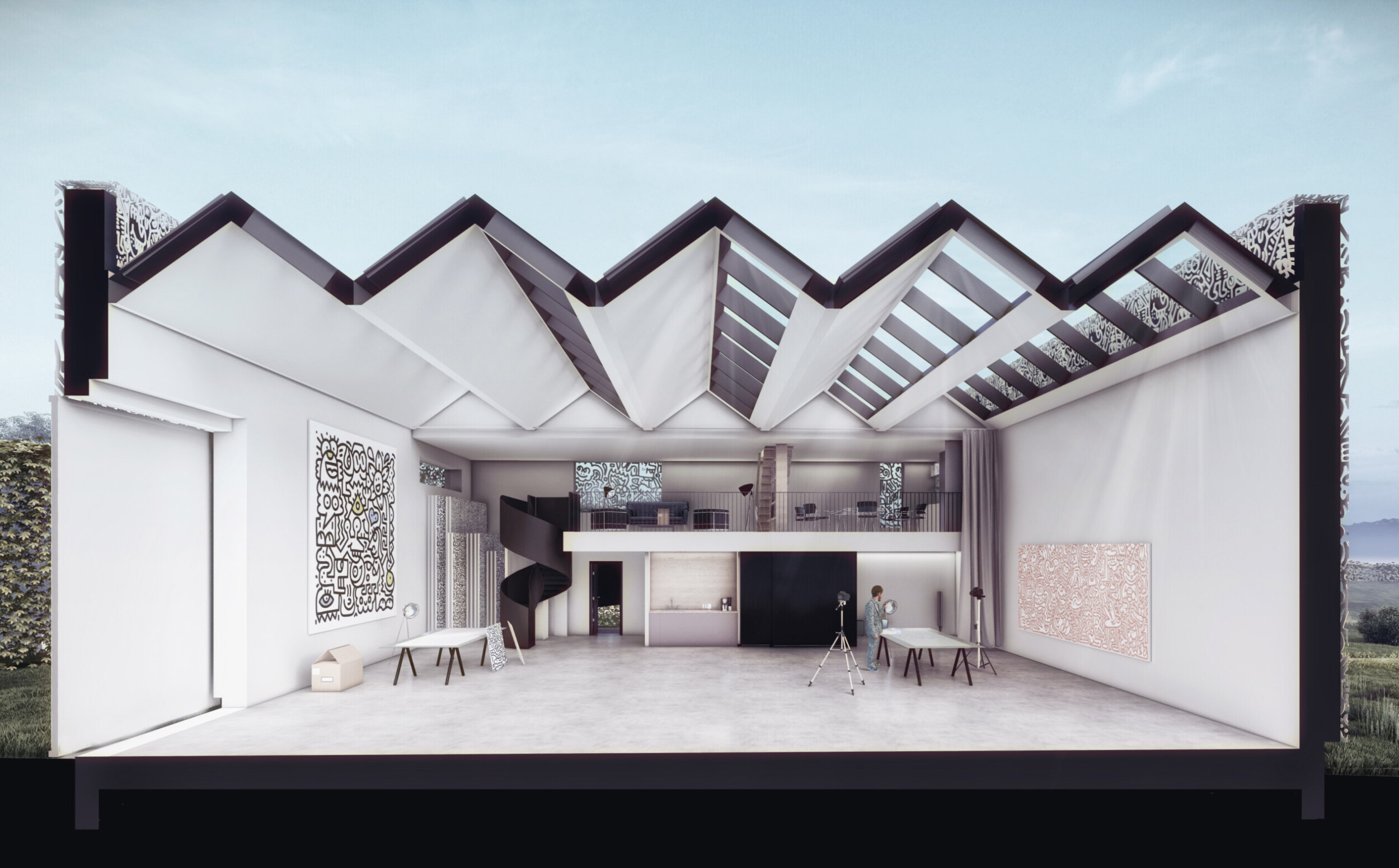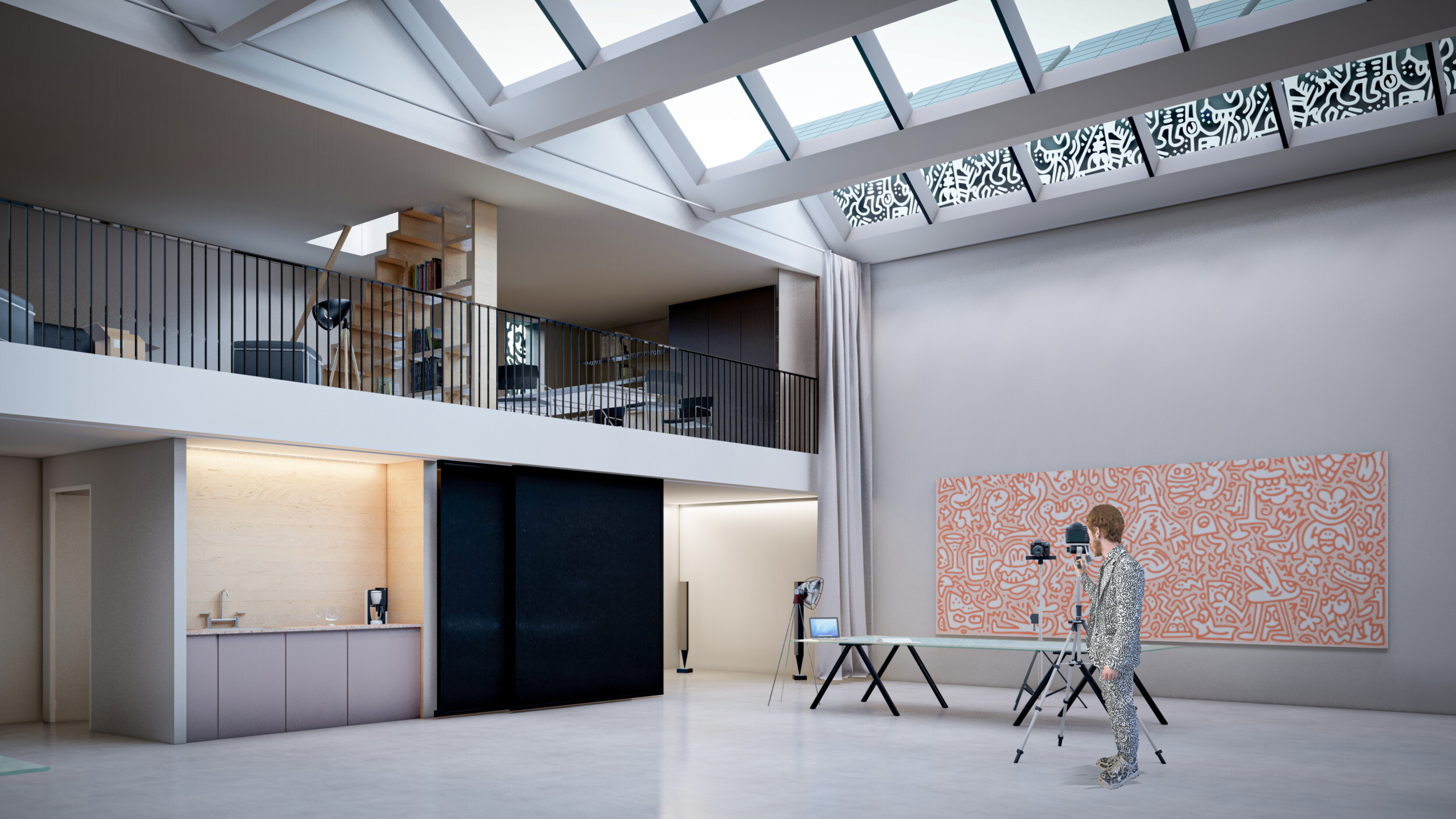 We are excited to announce that the internet phenomenon and multi million pound selling global artist, Mr Doodle has commissioned Hollaway Studio to design his private artist's studio in the grounds of his home in Tenterden, Kent.
The studio acts as both a continuation and a direct contrast to his house, a neo Georgian building. Here the studio is a conduit for Mr Doodle's art to be used more functionally and everlasting and is a clear example of the two separate forms of art and architecture converging and inspiring each other. An enticing cube, itself a conversation starter like his artworks, the studio will be covered in a metal sheet projected 100mm from the main building that will wrap the whole exterior in laser cut doodle shapes created by Mr Doodle. These Doodles, such as walking fish and dancing robots, are some of his favourite items doodled throughout his career. This part of the design therefore reflects how the studio represents both space of work and inspiration to the artist.
This studio will act as a permanent embodiment of his artwork and will be situated like a sculpture in its own right within the beautifully landscaped Kent gardens of his home that have been redesigned by his wife, Mrs Doodle, aka Alena Cox.
The entrance of the cube has been designed so that it lifts up at the corner as if peeking into the contents of a box, recalling a present. What starts as a confined space suddenly opens up to reveal Mr and Mrs Doodle's workspace, comprising Mr Doodle's studio at ground level with huge walls to hang his monumental canvases on, storage spaces and a small kitchen and lounge area to invite clients to.
The entire space is flooded with north light owing to the sawtooth windows that cover the roof allowing for the perfect lighting to be dissipated further to create the ideal lighting conditions for Mr Doodle to draw in.
The building faces north to south with solar panels on the southerly facing side and air-source heat pumps making the building completely sustainable. Steel stairs lead up to a mezzanine floor where Mrs Doodle will work and from there additional stairs go up to the roof terrace from which the landscaped gardens and doodle maze that she has designed can be viewed in full 'Doodle vision'.
Alena Cox, aka 'Mrs Doodle's', gardens surrounding the studio are heavily influenced by the principles of feng shui, the traditional practice originating from ancient China that considers how human life connects and flows with the environment around it.
The inspiration also came from the meditative state of mind and calming flow through the body that being in a zen garden provides, which is itself equal to the same flow felt by Mr Doodle when he doodles. At the centre of her designs are two meandering rivers, representing the River Thames for Mr Doodle and the River Kharkiv for Mrs Doodle, which come together as one in reference to their own relationship.
A large pond area is situated right in front of the studio as well as a maze that only when it is viewed from the roof terrace of the studio, becomes one of Mr Doodle's artworks brought to life through leafy hedge borders.
For Hollaway Studio, this project is what the studio hopes will initiate a different way of thinking about buildings and what they represent on a greater level.
From Guy Hollaway: "Our work with Mr Doodle takes the artist's studio far beyond the concept of four walls and makes something longlasting out of the relationship between art and architecture."